Shade3D Ver.19 English Version is now shipped.
To find out more information about this new product, visit our page at >>here.
Shade3D ver.16
---
| | | |
| --- | --- | --- |
| | | |
| Basic Version: $85.00 (USD) | Standard Version: $331.00 (USD) | Professional Version: $666.00 (USD) |
| Discontinued | Discontinued | Discontinued |
| | | |
*All images presenting Shade3D Co.,Ltd. products are representing downloadable content
*Products are available in English language only.
*All services included user support, product registration, upgrade to newer version and cross upgrade to higher level are target to English version only. We don't provide option to upgrade English version to Japanese version.



Shade3D Professional: One Year Subscription
Purchase One Year Subscription of Shade3D Professional version! Access our One Year Subscription page and learn more about the benefits of subscribing to this offer.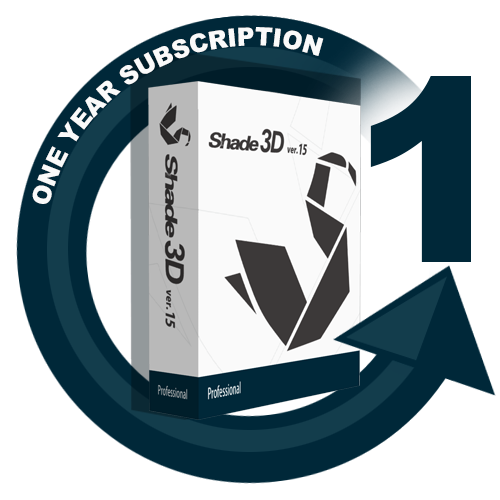 $289.00 USD

Three versions of Shade3D are available to suit any budget or purpose. To find out what the differences are, please see the Features Comparison Table for more details in Shade3D ver.16.
Select your Shade3D
---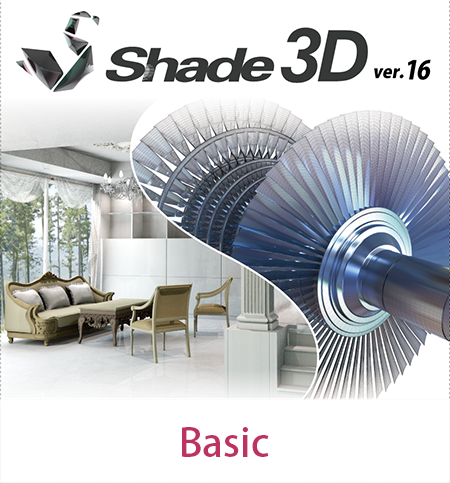 The Basic version contains all the essential 3D tools for modeling, rendering, animation, 3D printing or creating characters or props for your own game.
Modeling Tools
*Build models using curved surface, polygon mesh, meta-ball and boolean modeling tools
*Import illustrations and build models out from them as templates
*Import illustrations and build models out from them as templates
Materials and Surface Tools
*Create surfaces with unlimited layers of materials, textures
*Import unlimited texture maps as parallax bump maps
*Use projection mapping to set up your materials
Scene Set Up Tools
*Unlimited number of custom, static, animated cameras
*Control the quality of shadow rendering
*Beautiful, realistic volumetric lighting, support for negative lights
*Camera control with tilt, video safe zones
Outstanding Rendering and Animation
*Brilliant radiosity and global illumination rendering support
*32/64/128 bit depth with color correction; HDRI image support
*Object transformation animation, morphing and camera animation support
*3D sound object renders stereo sounds with doppler effect
*Real 3D stereoscopic rendering and exporting as .mpo (for Stereoscopic 3D TV)
*Realtime preview rendering
*Rendering size in Basic version limited to 2500 x 2500 pixels (1080p HD size)
3D Printing Check and Output
*Shade3D Printing Assistant checks and optimize 3D models for 3D printing
*Thickness tool support and other polygon check features
*Import and export STL format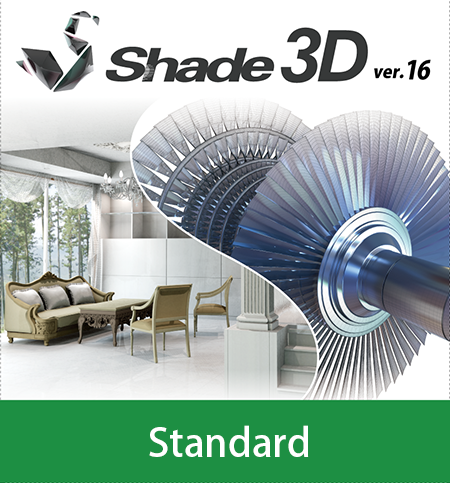 The Standard version includes all the features from Shade3D Basic version plus plugins support and more advance features such as,
Modeling Tools
*Path and Surface Replicator
*Hair and Fur Creation tools
*Instance Shape
Advance Material / Light / Background
*Displacement Mapping
*Volumetric Materials
*LSCM UV Unwrap
*Volume Lights
*Physical Sky
Outstanding Rendering and Animation
*Multi-Pass Rendering
*Toon Rendering
*Motion Blur
*Inverse Kinematics (IK)
*Vertex Blending / Weight Painting
*Bones and Skin
*Particle Physics
*Rendering size in Standard version limited to 4500 x 4500 pixels (4K UHD size)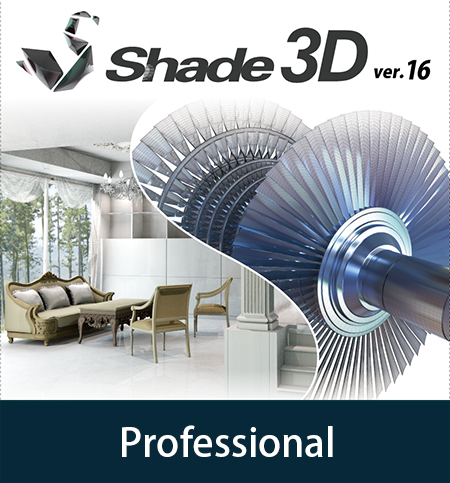 The Professional version is the Ultimate tool for 3D modeling, rendering and animation. Included all the features from Standard version plus many more.
Scene and Modeling Tools
*Save into Lock scene file with security password
*RoomPlanner
*Collision Detection in Hair and Fur creation tools
Advance Material / Light
*Subsurface Scattering
*IES Light Import
*Soft Shadow in Raytracing
Powerful Rendering Features
*Radiosity Pro
*Rendering History
*Vector output in Toon Rendering
*Live Preview in Color Correction
*Depth of Field (DepthPlus)
*Fog, Animated Fog (FogPlus)
*Unlimited rendering size in Professional version (Up to available memory)
*Unlimited render nodes in ShadeGrid Network Rendering
More File Import and Export
*BVH Motion File Import
*COLLADA Import
*Piranesi Epix Export
*3ds Max (3DS)
*Lightwave 3D (LWO)

---
Standard Price List
| | | |
| --- | --- | --- |
| Grade (Level) | | Price |
| Shade3D ver.16 Basic | | $85.00 |
| Shade3D ver.16 Standard | | $331.00 |
| Shade3D ver.16 Professional | | $666.00 |
| Upgrade from Shade 3D ver.14, 15 | | Price |
| Basic → Basic (ver.16) | | $47.00 |
| Standard → Standard (ver.16) | | $114.00 |
| Professional → Professional (ver.16) | | $209.00 |
| Cross Upgrade from Shade 3D ver.14, 15, 16 | | Price |
| Basic → Standard (ver.16) | | $209.00 |
| Basic → Professional (ver.16) | | $571.00 |
| Standard → Professional (ver.16) | | $400.00 |


Price List in US Dollars (Prices are subject to change without prior notice.)

For more information concerning our *Refund Conditions, please read the text below.
---
Refund Conditions
- For any request concerning a refund, Shade3D Co.,Ltd. needs a proof of sales (with problem such as "double orders", "Mistakenly ordered or upgraded" may consider for a refund).
- The time limit of refund is three (3) months after the customer has made the payment.
- The proportion of refunded amount based on time limits is : 100% of transaction amount within a month (1 month) and 80% for more than one month.
- The refund method is made either via a deposit on the customer's PayPal™ account or directly by bank deposit.
Note A: 1 month means within 30 days after user purchased and received the confirmation email from our store with the serial number and download information.
Note B: Our EULA doesn't provide 30 days money back policy, therefore, without a good reason as shown in the Refund Conditions, we shall not provide refund.
Note C: This apply to PayPal™ transaction only. Paid directly through credit card, convenience store or bank transfer are not included.
---
Note for the customers who have purchased Shade 3D through the Mac App Store: We recommend to our dear Shade 3D users who have purchased Shade 3D on the Mac App Store and who are now willing to benefit from our special offers/upgrade possibilities to register as a new customer to our Online Store and provide us with an invoice or a proof of purchase on the AppStore (send to support@shade3d.co.jp).
---