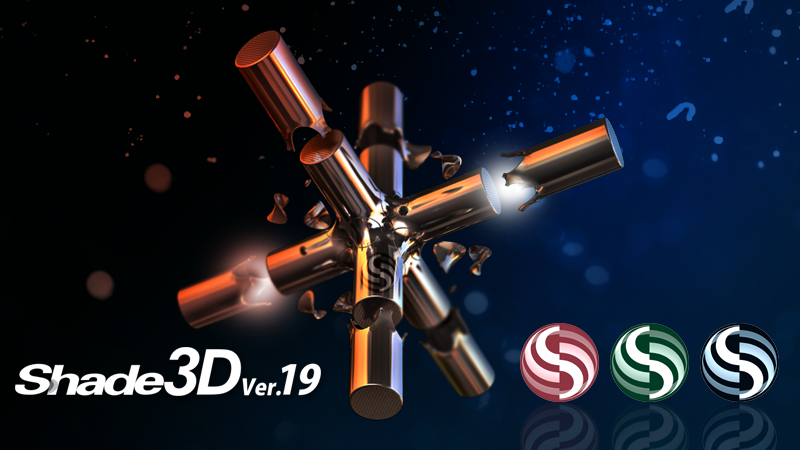 Learn how to bring your creation to life !
---
Shade3D is a comprehensive 3D graphics suite for designers, illustrators and architects, offering a highly competitive and rich tool set available at a low price.
Shade3D, the famous 3DCG program, is used in various applications such as architectural perspective, interior design, and product design. If you need to express your idea in 3D, in order to make it easy to your colleagues, clients, to understand, Shade3D is the tool you need.
You don't need to be a 3DCG professional to change your idea in 3 dimensions, Shade3D and its intuitive tools will smoothly help you to do so.
From hobbyists to professionals, Shade3D is present in a wide range of activities: Automotive Design, Architecture, Interior Design, Advertising Illustrations, Video Games and more. Totally compatible with most of the 3D Printing formats, Shade3D steps into the future allowing its users to see their creations in the real world, corrected and fixed by its optimized 3D Printing Assistant.
>>Click this link to have a sneak peek of Shade3D's new tools !<<
---
Shade3D can do everything.

Only Shade3D can perform modeling, rendering, animation, and 3D printing in one solution!
Find your favourite modeling method

When you want to create a shape, there are various ways to create it.
Shade3D is ready for free-form surface / NURBS and polygon modeling.
You can also choose your favorite modeling, which is unique to Shade3D.

Photorealistic Rendering

Apply texture settings and materials, transparency to your 3D model.
In addition, by setting different lightings, such as sunlight, you wil give to your image a photorealistic touch.

Explore Shade3D's animation's functions !

Character's animation, particles generations such as fire, smoke but also collision functions will give your video a realistic look !

3D printing never been easier!

3D printing has become super easy with the 3D print assistant, which automatically checks and corrects errors.

Supports various file formats

It is possible to interact with various files from 2D software to 3DCAD software.
Please refer to function comparison/file for details.

Always up to date
With a Shade3D Professional subscription, you'll get all the new features and updates right out of the box.