---
Introduction
---
2016/09/01 Updated to ver.1.2.1:
- Fixed the problem when in some cases, the GPU checkbox cannot be select during AO map calculation under Shade3D ver.16
2015/06/24 Updated to ver.1.2.0:
- AOUtil can now use GPU calculation in Windows under DirectX with Shade 3D ver.15.1
- AOUtil can store AO's result in vertex color with Shade 3D ver.15.1 and the result can be export to other applications through FBX or OBJ file format.
AOUtil (AO) will calculate the AO (Ambient Occlusion) of each vertex of a Polygon Mesh in Shade 3D. It also allows you to create an AO Map texture.
AO allows an improved rendering featuring with an amazing shadow quality, even more realistic than the RayTracing system.
As AO Map is just a texture, it is a great tool to express your creativity with other tools, like Unity.
*Note: there is no other ways to export the result of vertex color in AO to other applications except if using version 1.2.0 with Shade 3D ver.15.1 together.
---
Developer
---
---
Operating Environments
---
- Shade 3D ver.14 Standard/Professional or later (*Except Shade3D Basic version)
- Windows: 7/8/8.1/10
- Mac: OS X 10.9/10.10/10.11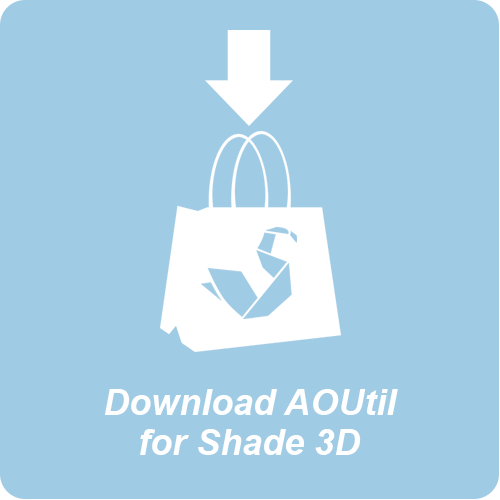 500 JPY (Approx. 4.22 USD)