MagicalSketch 3D for iOS
---
MagicalSketch 3D is now available for iOS! You are a beginner in the 3DCG design? Take MagicalSketch 3D with you and practice everywhere, on your iPad or your iPhone, 3D creation has never been so easy.
Your kids often borrow your iPad and love doodling? They will love painting their drawings in 3D with their fingers and see the 3D printed result!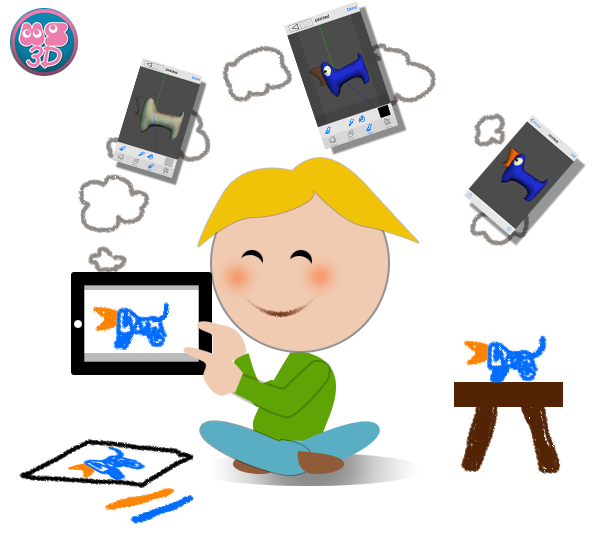 An improved UI and easy-to-understand icons make MagicalSketch 3D one of the best and intuitive mobile 3DCG software.
| | |
| --- | --- |
| Tools to write and outline your shape! | Modify your object! |
| Paint in 3D! | Modify and Delete! |
Touch and Create a Shape
---
Just draw the outline of the shape you have in mind and modify it with MagicalSketch 3D's tools! Once done, paint it with your favorite color!
| | | |
| --- | --- | --- |
| 1- Create contour lines | 2- 3D shape is created | 3- Modify your shape |
| 4- Choose a brush and paint it | 5- Rotate and check your creation | |
Use your Creation
---
Upload your finished object and use it the way you want!
3D Print !
---
You can convert your shape into an OBJ or a STL file, the most popular 3D formats for 3D printing. Depending on which 3D printer or 3D printing service you want to use, you will choose either one or the other format.