SDN (Shade Developer Network)
Shade3D provides users a community (Shade Developer Network) that will work on Shade 3D development in order to extend its functionalities!
Thanks to the SDN, you will participate in making Shade 3D a better product. Implementing new tools and improving Shade 3D functionalities is now possible with the SDN.
In the SDN, technical documentation, tutorials, products samples and API reference are available and updated on daily basis. This is the place where you will find answer to a technical question, share your information and benefit from the experience of long time Shade 3D users. Developing customized solution for Shade 3D has never been so easy!
What is great about being a part of the SDN is that you can also use our MarketPlace where you will be able to sell your content, Plugin or Script and let the others know about your work!

The SDN will always make available to you Shade 3D's technical documentation and tips in order to help you in the development of your plugins and scripts.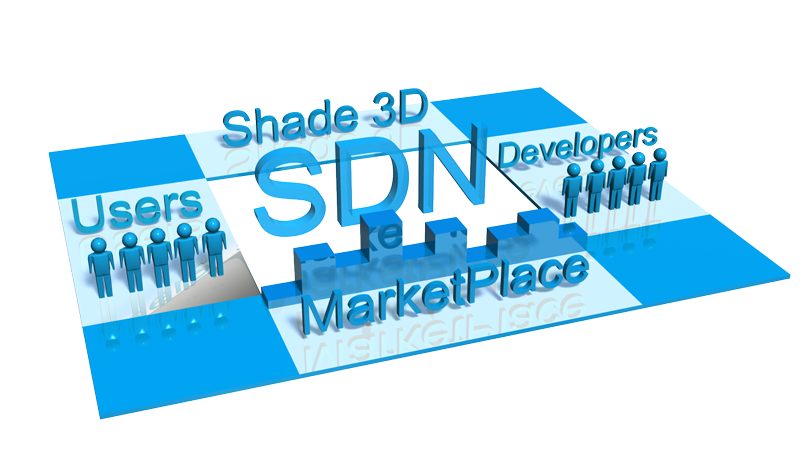 SDN development: Two ways, two solutions for Shade 3D's Expansion
---
Plugins
---
By using the SDK, from simple solutions to advanced new features, you can create additional functions integrated in Shade 3D as plugins.
Examples of new implemented features in Shade 3D as plugins
| | |
| --- | --- |
| | |
| Modeling: Spiral Line | Effect: DepthPlus |
| | |
| Rendering: Toon Renderer | Animation: Particle Physics |
Plugins are developed using a plugin development Kit (Shade 3D Plugin SDK) provided by Shade3D Co.,Ltd.
---
Scripts & Widgets
---
You will develop your Scripts and Widgets by using Shade 3D Python Script.
Without needing any advanced programmation knowledge, you will program your scripts and widgets using this simple script based solution.
Since Shade 10, you can now benefit from an HTML interface in order to represent your Python Script works.
Examples of new implemented features in Shade 3D as Widgets
| | |
| --- | --- |
| | |
| Integrated tool: 3D Printing Assistant | Utility: Camera Control |